"Now I am the backseat driver from America,
and I am not at the wheel of control,
I am guilty, I am war and I am the root of all evil,
Lord, and I can't drive on the left side of the road."
Studying GCSE Drama at Uplands Community College during the 90s afforded me the dubious honour of being cast in various student plays. Our inspiring drama teacher Ms Lumsden was nothing if not committed to pushing the Overton Window for school theatre, hence the staging of unlikely productions such as Timberlake Wertenbaker's Our Country's Good and Arthur Millers' The Crucible. John Proctor certainly left an impression on me. Unsurprisingly, the opening monologues to Our Country's Good required some pretty hefty editing to get past the school censors. I'm pretty sure that the John Wisehammer's earnest hunt for "English cunt" didn't make the cut. A difficult sell to a school audience to be fair.
A bonus for those of us studying GCSE and acting in Wertenbaker's play, was that Ms Lumsden allowed for class time to be devoted to line learning/rehearsal. Which for Major Robbie Ross (yours truly) and John Wisehammer (my good friend – and possessor of the finest cover drive in all of East Sussex – Brough Cooper) made for a de-facto Free Period in the middle of a school day, our lines having already been learned long ago. We would kick back in the drama studio behind a black curtain and variously read books and listen to music whilst sporadically shouting out enough of our lines to keep up the ruse. Much to the chagrin of classmate Rob Glasson who would routinely and quite correctly protest that we were 'just pissing about'. But then, he didn't have to wear a comically massive wig that made Brian May's hair look positively conservative. Unlike Brough.
So successful were our endeavours that Brough and I followed up the following year by pitching an aggressively melodramatic enactment of Macbeth's battle with MacDuff for our final exam performance piece. Somewhat surprisingly, not only did Ms Lumsden green-light our audacious plan, but she also commissioned the CDT department to forge a pair of massive Braveheart-style steel swords for Brough and I to swing at each-other with impunity. Sure they were blunt(ish), but those bad boys were heavy beasts capable of inflicting serious damage to our fingers/forearms/retinas/testes. I still find it hard to fathom that we were let loose on full-blooded steel sword combat with minimal stage combat training. When it came to the final performance Ms Lumsden even shrieked in terror at one dubiously composed near-miss. She was either lost in the moment or saw the grim spectre of a Fatal Accidents Act decapitation case flash across her future. I'm never quite sure if it was the fiendish choreography or our unabashed and wholly reckless risk of life and limb that clinched us that A Grade. Totally worth it either way; this was the stuff that GCSE Drama dreams were made of. Even if I did nearly sever Brough's index finger and hopes of cricketing glory in the process.
Anyway. It was during one of our shameless faux 'rehearsals' in GSCE Drama that I remember arriving to school with my trusty Aiwa Walkman and the cassette of the soundtrack to Party of Five. Brough asked for an ear bud to get in on the action, possibly expecting to hear BoDeans tearing it up with the unmistakeable title track Closer to Free. Instead he was greeted by the folkabilly stylings of the peerless and sadly recently departed Nanci Griffith. Brough was far too polite to say whether he liked it or not (I recall a simple, "very nice" at the song's end), but It's a Hard Life is a track that left a deep mark on me those 25 years ago.
It was my first introduction to Nanci Griffith whose 18 studios albums slipped in and out of genres with the ease borne of her calm genius. By all accounts her 1989 album Storms was not well received by purists who bemoaned its pop leanings. But whereas some of that record hasn't aged too well with its softer synth stylings, the soul of It's a Hard Life lives deep in Griffith's Texas Americana roots. The opening is brooding and filmic, a Celtic drone and simple lilting guitar that is immediately pregnant with meaning. The rolling melody lands with Griffiths' beautifully pure delivery, painting a visual landscape so real you can reach out and touch it. Back then I knew little of the tensions of 80s Belfast and Chicago. But the autobiographic poetry of this child of the 60s, "when dreams could be held through TV, with Disney and Cronkite and Martin Luther" was a lesson in social history that just also happened to be a beautiful song. The video aesthetic is perfect too; unabashed and unpretentious and unmistakably of its late 80s era. It captures a visual moment in time that I am sure tracksuit historian Elis James would appreciate. I certainly do.
RIP Nanci Griffith (July 6, 1953 – August 13, 2021). One of the greats.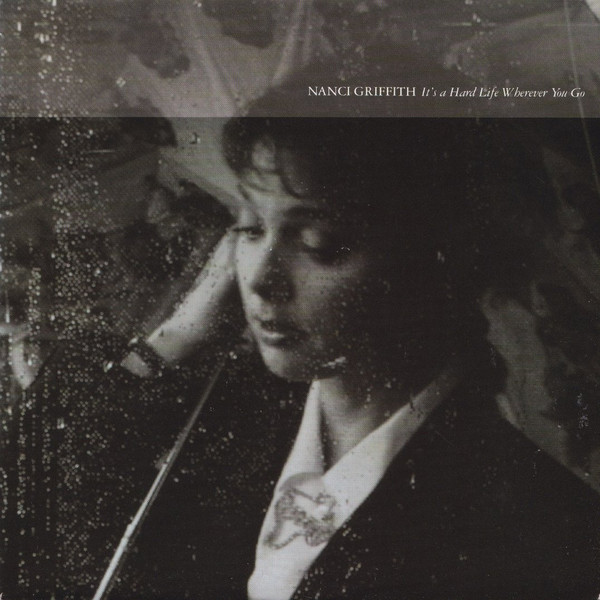 Honourable Mentions
Good Vibrations The Beach Boys
The Kiss Trevor Jones
King of Fools Delirious